LUMINOX LIGHT TECHNOLOGY (LLT)
Unique Luminox Light Technology ensures visibility at a glance - Luminox watch technology provides a 24/7 glow, regardless of weather conditions, for up to 25 years.* Most other watches use luminescent paint that is characterized by a light source needs to be charged and fades very quickly, or a "push-to-light" system where you have to press a button for battery-powered lights.
*Always Visible means that the Luminox Light Technology (LLT) lighting system, ie the tiny glass tubes that illuminate the watch, are guaranteed to be illuminated for a period of 10 years. The fluorescent tubes shine for 25 years, with visibility depending on individual eyesight, the color of the tube and the condition of the watch glass.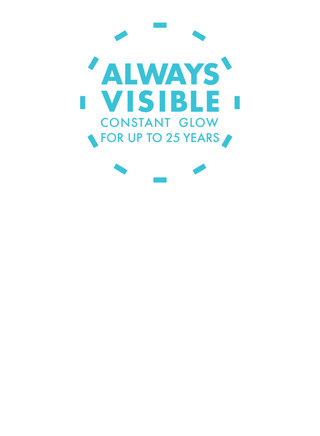 · Self-powered lighting system
· Lasting glow for up to 25 years
· Water and shock resistant
· Swiss made
CARBONOX™
Luminox uses an innovative carbon compound - CARBONOX™ - for its ultra-lightweight watches, valued by elite professionals and outdoor enthusiasts alike.
With CARBONOX™, Luminox creates high-tech timepieces with a very robust and hard-finished watch case that takes durability to a whole new level. Luminox has a long history with CARBONOX™ and has used this material for its watch cases and some straps since 2006.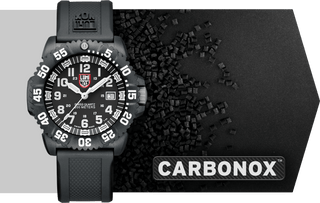 CARBONOX™ consists of carbon powder in different proportions depending on the watch model:

• 6 times lighter than steel, 3 times lighter than titanium
• Durable
• Non-metallic, anti-allergic, anti-magnetic
• Strong chemical resistance
• Very low thermal expansion and low thermal expansion, weather resistant
BENEFITS FOR THE CONSUMER
• Ultra light
• Extremely high wearing comfort
• Impact and scratch resistant
• Will not get hot in warm temperatures and will not get cold in extremely cold climates
CARBONOX™ gives Luminox watches a black matte finish popular with special forces.
CARBONOX™
+
CARBONOX™

+
is a high performance long rod carbon blend where 40% of the blend is carbon fiber.
In addition to the many benefits that CARBONOX™ already offers the consumer, CARBONOX™ + offers additional benefits:

• Ultra-strong watch case, thanks to the rigidity of the carbon fibers

• The tensile strength of CARBONOX™ + is twice that of CARBONOX™, while the water absorption is 3 times lower.

• CARBONOX™ + gives Luminox watches a very modern and distinctive gray colour

• The carbon fiber pattern is visible on the watch case, making the watch even more attractive


CARBONOX™ / CARBONOX™ + is a registered trademark of Luminox.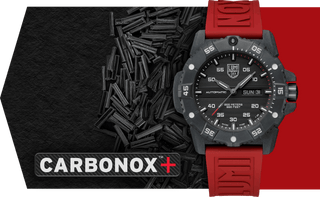 AUTOMATIC WATCHES
More and more people are discovering the magic of mechanical movements - automatic movements actually interact with you as they are wound by the movement of your wrist - without you having to change the battery!
An automatic movement is a self-winding mechanical movement that uses the energy generated by the movement of the wearer to wind the spring. The watch maintains its power reserve if you wear it daily. When not wearing the watch, it is advisable to keep it on a watch winder to keep it in full power.